scenarios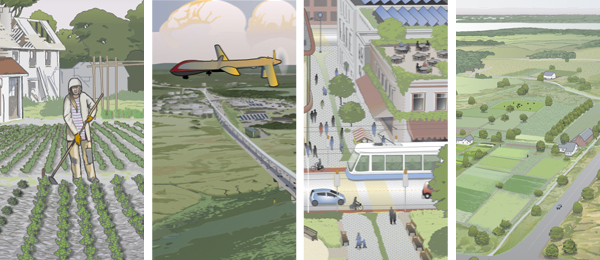 What could life in the Yahara Watershed be like in the year 2070 if…?
WSC's integrated scenarios, called Yahara 2070, are an exploration of this question, with a focus on freshwater sustainability and climate resilience in the Yahara watershed.
An integrated scenario combines storytelling and science. Plausible but fictional stories describe how different sets of social-ecological changes could unfold into the future. Computer models then simulate those changes and assess the associated future consequences for the natural benefits people depend on, like water quality and food production.
Learn more about how we developed the Yahara 2070 scenarios.
None of the scenarios portrays an ideal or worst-case future. Rather, by comparing across them, scientists and decision makers can better understand what can lead to change and anticipate potential outcomes. The scenarios can also help people envision desirable futures and how to work towards them.
What we asked
We developed Yahara 2070 to answer the following questions:
How might water quality and supply in the Yahara Watershed be affected if different trending changes in land use, climate, and society occur over the next 60 years?
What vulnerabilities and uncertainties should the people of the Yahara Watershed anticipate in the next 60 years?
Where are the opportunities to enhance ecological and social resilience?
Can scenarios positively influence local decision making around water resources?
What we found
The scenarios demonstrate there are tradeoffs among the natural benefits the watershed provides; no single scenario is "the winner" in terms of the watershed's capacity to provide these benefits. This means people can get different benefit bundles from the watershed depending on their priorities and how they manage the landscape.
Land-use decisions will have the most influence on services like food and bioenergy production – for example, what we choose to grow in the watershed will determine the watershed's production capacity. But the climate will also have impacts; for example, drought can suppress production.
The climate will be a dominant driver for other ecosystem services. For example, the warmer climate in each scenario causes a higher atmospheric water demand, which results in less water draining into the groundwater supply by 2070, even if there's more precipitation. Also, increasing precipitation and heavy storms can increase flood risk and degrade water quality. These adverse trends could be offset, to some extent, by improvements in land use and management.
Improving water quality is a long-term process that will require commitment to action and innovation for decades to come. Over the past 70 years, excess phosphorus has accumulated in the Yahara's soils. This "legacy" is a major cause of poor water quality today, and efforts to draw down the excess phosphorus through technology and improved land management will be necessary to improve the lakes moving forward. 
Invasive species such as the spiny water flea could reverse decades of progress on water quality. Preventing future invasions through human behavior change could be inexpensive insurance against these potential costly damages.
Explore the scenarios in more depth at Yahara2070.org

RESEARCH HIGHLIGHTS
Meeting Our Future Water Needs: Key lessons and opportunities
Yahara 2070 model results infographic
Study quantifies role of 'legacy phosphorus' in reduced water quality
Discussion guides facilitate future thinking
How to simulate the future of a watershed