Landscape analyses of ecosystem services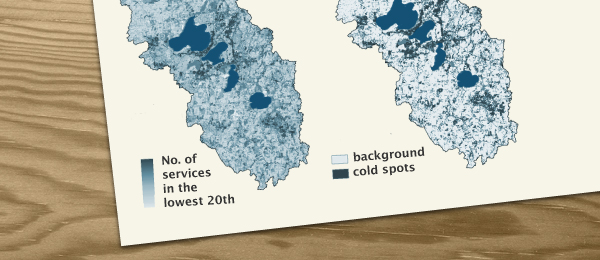 Across a landscape, ecosystem services interact with each other. Places used for growing food influence water quality, and wildlife habitat can coincide with recreation and carbon storage, for example.
Understanding the relationships among different ecosystem services, as well as how these relationships could react to social and environmental change, is important for making land-management decisions that will ensure regional resilience. However, such knowledge is currently lacking. Land or resource management often focuses on only a few desirable ecosystem services, which can sometimes lead to shortcomings or unintended negative consequences for other ecosystem services.
The landscape of the Yahara Watershed is both agricultural and urbanized, making it challenging to balance demands for ecosystem services. For example, how do we create a favorable balance between food production, urban amenities, clean water, productive fisheries, and attractive landscapes? Since the Yahara landscape is representative of other Midwestern watersheds, what WSC learns is relevant for other areas in the region.
WSC's landscape analyses research team is investigating what patterns and relationships exist among diverse ecosystem services produced across the watershed and how changes in climate and land use may affect those relationships in the future. Through this research, WSC aims to uncover ways to maintain ecosystem services across the landscape, which could help to ensure human and ecosystem well being for generations to come.
The following questions drive this research:
Where on the landscape are the tradeoffs and synergies among ecosystem services?
How do the types and arrangements of different land uses affect freshwater resources, and how might climate change alter these effects?
What could be the outcomes of social and environmental changes—specifically the changes envisioned in WSC's integrated scenarios—on the relationships among ecosystem services, and landscape resilience?

RESEARCH HIGHLIGHTS
A quarter of Wisconsin lakes are getting murkier but study shows hope for improvement
Two schools of thought are better than one for water sustainability solutions
Voracious Asian jumping worms strip forest floor and flood soil with nutrients
Grassland biofuels could benefit people and birds in Wisconsin and beyond
Small landscape changes can mean big freshwater gains
Responding to a shock to the system: the Asian crazy worm
Tradeoffs and win-wins in ecosystem services