Landscape analyses of ecosystem services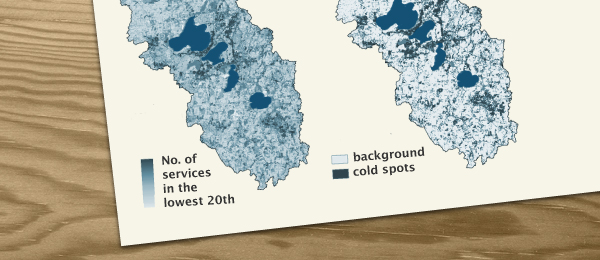 People depend on landscapes for many natural benefits, or ecosystem services, such as growing food, freshwater for drinking and recreation, and wildlife habitat. Understanding the tradeoffs and synergies among ecosystem services, as well as how these relationships could react to social and environmental change, is important for making land-management decisions that will ensure regional resilience and resource sustainability.
The landscape of the Yahara Watershed is both agricultural and urbanized, making it challenging to balance demands for ecosystem services. For example, how do we create a favorable balance between food production and clean water, or between urban amenities and attractive landscapes?
WSC's landscape analyses research team investigated what patterns and relationships exist among diverse ecosystem services produced across the watershed and how changes in climate and land use may affect those relationships in the future. Their findings can inform solutions to maintain ecosystem services across the landscape, which could help to ensure human well-being for generations to come.
What we asked
Where on the landscape are the tradeoffs and synergies among ecosystem services?
How do the types and arrangements of different land uses affect freshwater resources, and how might climate change alter these effects?
What could be the outcomes of social and environmental changes—specifically the changes envisioned in WSC's integrated scenarios—on the relationships among ecosystem services, and landscape resilience?
What we found
The Yahara landscape must be managed as an integrated system and with a long-term perspective. Individual parcels of land cannot provide the suite of ecosystem services we expect from them. Different places provide different services, and the whole portfolio of land uses must be considered. 
Identifying "win-win" solutions that reduce tradeoffs between competing ecosystem services is challenging but possible. For example, local land-use practices can moderate the negative effects of nutrient runoff on water quality; expanding bioenergy grasslands onto marginal agricultural lands can benefit grassland bird populations while meeting targets for biomass production; and urban land-use practices can reduce the buildup of soil phosphorus and enhance water infiltration to replenish the groundwater supply. 
In a landscape dominated by agriculture and urban land use, such as the Yahara, altering the spatial arrangement of land cover, or its configuration, will not be sufficient to enhance water quality. Rather, it may be necessary to change the landscape's composition, such as reducing the amount of land in row crops, to sustain water quality, especially as high-intensity rainfall events become more frequent. 
Proactive land-use changes and management may buffer water quality against undesirable future climate changes. However, efforts to sustain freshwater supply and flood regulation with land management may be overwhelmed by climate changes.
Today's land-use decisions generate tomorrow's land-use legacies, and these legacies will affect the supply of our ecosystem services. Natural processes can be slow to recover from this past, and landscape modifications don't always result in an immediate change to the supply of an ecosystem service. An improved understanding of these historical effects can aid future decision making.

RESEARCH HIGHLIGHTS
A quarter of Wisconsin lakes are getting murkier but study shows hope for improvement
Two schools of thought are better than one for water sustainability solutions
Voracious Asian jumping worms strip forest floor and flood soil with nutrients
Grassland biofuels could benefit people and birds in Wisconsin and beyond
Small landscape changes can mean big freshwater gains
Responding to a shock to the system: the Asian crazy worm
Tradeoffs and win-wins in ecosystem services