our people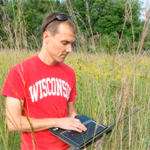 Booth's research interests cut across many disciplines, with water as a centerpiece; these include hydroecology, impacts of climate and land-use change, urban stormwater management, wetland/stream restoration, water quality, groundwater hydrology, fluvial geomorphology, environmental history, agroecology, remote sensing, and numerical modeling.
Booth collaborates with the North Temperate Lakes Long-Term Ecological Research site, Center for Limnology, UW Arboretum, Great Lakes Bioenergy Research Center, and Wisconsin Energy Institute. He has also worked as a student trainee in hydrology at the USGS Wisconsin Water Science Center in Middleton.
Booth holds a B.S. in Environmental Engineering from UW-Madison (2004), an M.S. in Hydrologic Science from UC-Davis (2006), and a Ph.D. in Limnology from UW-Madison (2011).