policy and governance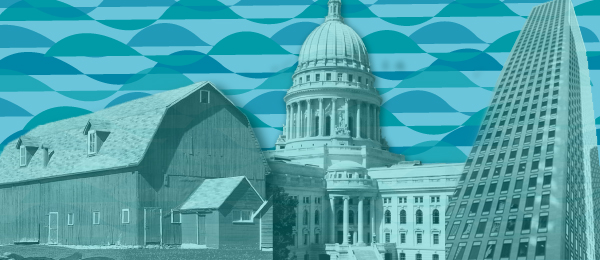 Policies and practices for land and water management have a significant impact on the sustainability of freshwater resources. To preserve freshwater and other ecosystem services over time, governing systems must be able to adapt to and withstand changes in climate, land use and human demand - but how?
WSC's policy and governance* research team investigated the relationships between land use and water governance, individual and collective decision making, and environmental change in the Yahara Watershed. They were interested in the effectiveness, acceptability, and implementation of regional governing systems and policies around freshwater management and climate adaptation.
What we asked
How do regional governance systems manage water and land use, and how have they adapted to changing environmental conditions?
How do individuals and organizations perceive future environmental changes, and what barriers and opportunities might shape regional adaptation?
What we found
While long-term changes in precipitation, land use, and agricultural production impact water quality outcomes, our research shows these changes are not incorporated into the baseline assessments used to plan and evaluate water quality improvement efforts. This suggests a need to address these slowly changing, external determinants of success when defining the goals for, designing and evaluating water quality improvement programs.
Targeting a landscape's nutrient "hotspots" could improve the effectiveness of water quality policies. However, our research uncovered challenges that inhibit this practice. For example, limited access to data and differing priorities in how to allocate funds can constrain implementation, and the fragmented nature of a multi-level government effort can lead to coordination barriers. These findings highlight the importance of analyzing where policies are played out on a landscape in relation to where ecosystem services are derived to ensure policies will achieve their desired outcomes.
Our survey of 1100 residents of the Yahara watershed showed high public value is placed on clean water - in drinking water, lakes, and rivers. The majority of residents support policies to reduce nutrient runoff, with higher support among those who are concerned about pollution, perceive water quality to be poor, and have a worldview that government is helpful to society.
Despite considerable effort both in the Yahara watershed and globally, there has been little progress in improving water quality by reducing soil and nutrient runoff into lakes and rivers. We identified barriers to progress that are inherent in the use of science to predict and assess runoff management and policy effectiveness. These barriers include few experimental designs, differing spatial scales for runoff reduction practices and measured water quality outcomes, lags in time between when policies are enacted and when their effects are seen, and disputes over the validity of assumptions built into models.
*The team defines "governance" as "the set of regulatory processes, mechanisms and organizations through which political actors influence environmental actions and outcomes. Governance is not the same as government. It includes the actions of the state and, in addition, encompasses actors such as communities, businesses, and NGOs" (Lemos and Agrawal 2006).

RESEARCH HIGHLIGHTS
Views about water policy reflect beliefs about government
Government transparency limited when it comes to America's conserved private lands
Two schools of thought are better than one for water sustainability solutions
Changes in land use, climate and agriculture undermine efforts to clean up the Madison lakes
Policy maps may help efforts to clean up the Yahara lakes