scenarios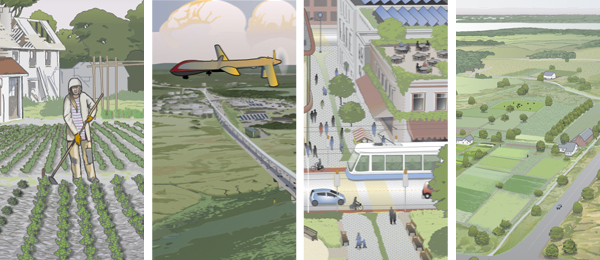 What could life in the Yahara Watershed be like in the year 2070 if…?
Using rigorous science, computer modeling, public participation, and "out-of-the-box" thinking, WSC's integrated scenarios are a scientific exploration of this question.
An integrated scenario combines plausible, internally consistent assumptions about causes of social-ecological change with model simulations of the likely consequences. In other words, they tell the story of "what if" a certain set of changes were to occur, and what could future human well-being and ecosystems be like as a result?
By comparing across scenarios, scientists and decision makers can better understand what can lead to change and better anticipate potential outcomes.
Called Yahara 2070, WSC's scenarios focus on the future of the region's freshwater quality and supply. However, because so much of life is dependent on and affects freshwater, they explore many other conditions necessary for human well-being.
Yahara 2070 combines both qualitative and quantitative "storytelling."
Narratives and illustrations tell the qualitative stories of 2070. These stories are based on the visions of an assortment of community members—e.g., government staff, NGO staff, business leaders, farmers, and concerned citizens—collected during a series of interviews and workshops, as well as on existing scientific literature about scenarios.
Biophysical computer models tell the quantitative stories of 2070. Based on the narratives, the models simulate natural processes, such as climate and groundwater flow, and provide estimated assessments of future conditions that are important to human well-being, such as water quality, water supply, and agricultural production.
Learn more about how WSC developed the scenarios.
No scenario portrays an ideal watershed. Each has distinctive advantages and disadvantages. Readers should consider all four scenarios together and weigh the benefits and costs of living in each of these imagined future worlds.
Through Yahara 2070, WSC seeks to not only inform future social-ecological research in the watershed, but also to help local decision makers envision and work towards a desirable future for the region.
The following questions guide WSC's scenarios research.
How might water quality and supply in the Yahara Watershed be affected if different trending changes in land use, climate, and society occur over the next 60 years?
What vulnerabilities and uncertainties should the people of the Yahara Watershed anticipate in the next 60 years?
Where are the opportunities to enhance ecological and social resilience?
Can scenarios positively influence local decision making around water resources?
Explore the scenarios at Yahara2070.org

RESEARCH HIGHLIGHTS
Study quantifies role of 'legacy phosphorus' in reduced water quality
Discussion guides facilitate future thinking
How to simulate the future of a watershed
Yahara 2070 Launched on May 14, 2014