water quality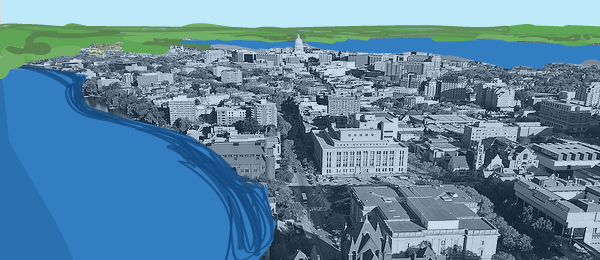 Current and future climate change, land management practices, and urbanization will undoubtedly influence lake water quality in the Yahara Watershed for generations to come. But how? And how can we lessen the negative effects? These questions drive WSC's water quality research.
The Yahara Lakes are among the world's most well-studied bodies of freshwater. Of particular interest are the effects of nutrient pollution from agricultural and urban areas—namely that caused by too much phosphorus.
While essential for life, phosphorus is harmful when in excess in soil and water. Soil erosion and agricultural and urban runoff transport phosphorus to the lakes, which results in eutrophication, or a surplus of nutrients in the water.
Algal blooms are the most visible sign of eutrophication. Algal or cyanobacteria blooms disrupt natural ecological processes in freshwater and can be harmful to animals and humans. Blooms are a frequent occurrence in the Yahara Lakes in the summertime.
Eutrophication can also kill fish in large numbers, resulting in losses for not just the ecosystem but also human recreation.
Even though we know that phosphorus causes eutrophication, there are many unanswered questions. For example, phosphorus pollution persists in the Yahara Watershed and many other watersheds around the world despite massive management efforts. Reasons for this persistence are not yet known.
Also, many questions remain about the effects of future land-use change and climate variability on lake water quality.
The following questions are central to WSC's water quality research.
How have changes in climate, land use, and land management affected lake water quality over the past several decades? What has been the effect of water quality initiatives over this time period, including the adoption of agricultural best management practices (BMPs)?
What could lake water quality be like in the year 2070 under certain conditions of social and environmental change, especially those outlined in the Yahara 2070 scenarios?
How would different phosphorus management strategies affect lake water quality under future climate change?

RESEARCH HIGHLIGHTS
Study quantifies role of 'legacy phosphorus' in reduced water quality
A quarter of Wisconsin's lakes are getting murkier but study shows hope for improvement
Improving Water Quality: An "Upstream" Battle (infographic)
Changes in land use, climate and agriculture undermine efforts to clean up the Madison lakes
Wisconsin's lakes need stronger management to tolerate climate change
New study: Bursts of phosphorus to blame for Lake Mendota's water quality problems
Good news and bad news for reducing phosphorus in the lakes