news

Our Waters, Our Future Writing Contest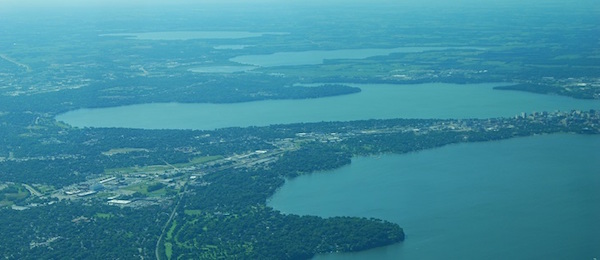 **The submission deadline has now passed. Find out who won!**
We all know water is essential to our lives and to those of future generations. But big changes, like growing populations and a warmer world, are bringing big challenges for our waters and communities.
How, then, can we build a future we want?
We can start by imagining what it looks like.
The "Our Waters, Our Future" writing contest seeks short stories that reflect positive futures for water and people in south-central Wisconsin.
The winning story will be published in Madison Magazine.
Help write the future
"People think that stories are shaped by people. In fact, it's the other way around." – Terry Pratchett, late author
Imagining what a desirable future looks like and how we could get there, and then sharing those visions is one way to be part of the conversation to ensure healthy waters and vibrant communities for generations to come. We want your help in fueling that conversation with inspiring stories.
This contest is a spin-off of Yahara 2070, a set of four stories about possible futures of the Yahara Watershed, the land surrounding Wisconsin's Yahara lakes (see map below). These "what if" scenarios depict plausible future outcomes for water and people based on different ways we might address present-day water, land-use, and climate challenges. The UW-Madison Water Sustainability and Climate project created them using input from local citizens representing farmers, government, scientists, businesses, non-profit organizations, and utilities.
But there are many more "what if" stories that could be told about our future. What's yours?
What are we looking for?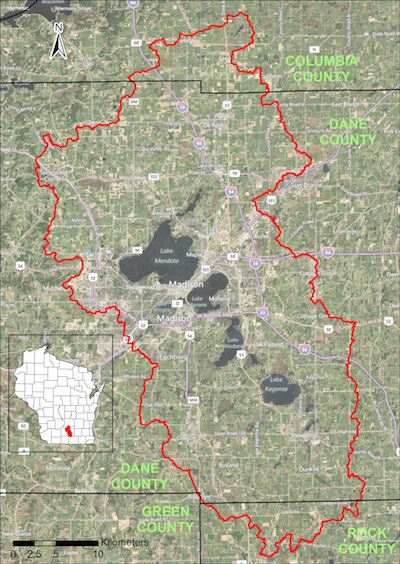 We are seeking short stories that reflect visions of a resilient and desirable future for both water and people in the Yahara Watershed and/or the affiliated counties of Dane, Rock, and Columbia. Similar to Yahara 2070, your story should take place in the year 2070, either implicitly or explicitly.
While fictional, your story should be scientifically plausible, meaning it reflects current scientific understanding about water, climate change, and related matters of the natural world. In other words, is this a world that could actually exist? (No rewriting the laws of physics, please!)
We aren't looking for utopias, as there will always be tradeoffs in the choices we make. We are looking for stories that are solutions-oriented and portray what you think sounds like a worthy, realistic future to aspire to.
Your story should be connected to water or water resources in some way. As water is tied to many aspects of our lives and society, submissions could incorporate or illuminate any number of related themes, such as environmental justice, energy, and food/agriculture.
We encourage you to read the Yahara 2070 stories as examples, which might provide inspiration for your own ideas about the future. But you do not need to copy the format or style presented in the scenarios. Be creative!
Stories must be 1500 to 2000 words in length.
The contest is open to anyone who resides or attends school in Wisconsin and is 18 years or older. You do not need to reside in the Yahara Watershed or its counties to enter.
You may write your story as an individual or with a team.
Got writer's block? Here are some writing techniques to help you get started.
We led a writing workshop on January 12 at the Madison Central Library in conjunction with the contest, to discuss the value of solutions-oriented stories about the future. 
Judging Criteria
Stories will be judged blindly based on 1) creativity and writing quality, 2) scientific plausibility, and 3) whether it follows guidelines listed above.
The initial judging panel will consist of representatives from the contest organizers. UW-Madison scientists will check for scientific plausibility.
The winner and top finalists will be chosen by representatives from Madison Magazine and our expert judges:
Expert Judges
 
Fabu
Third Madison Poet Laureate (2008-2012), Columnist and Educator
 
Peter Annin
Journalist and co-director of the Mary Griggs Burke Center for Freshwater Innovation at Northland College
Awards
The winner and finalists will be announced at a World Water Day event hosted by the Wisconsin Academy of Sciences, Arts & Letters on March 22, 2016.
The author of the first place story will be awarded the following:
Publication in the June 2016 issue of Madison Magazine, the contest's exclusive media partner; 
A framed print of an illustration based on their story by the artist who created the Yahara 2070 illustrations, John Miller; 
A Linus Roadster Sport 3-Speed Bicycle, size large, color Coppertone, from Fontana Sports; and 
A gift certificate from Wingra Boats.
Top finalists will receive outdoor recreational opportunities or gear from our other award sponsors: Brittingham & Wingra Boats and REI.
A collection of the finalists may be compiled for an online anthology.
The submission deadline was February 1, 2016. We will contact entrants about contest results by March 22.
Our Team
Thanks to our award sponsors!
Questions?
Contact the contest coordinator, Jenny Seifert, via email or phone: 608-890-2137
Help us promote! Download the contest flyer to email or hang up, and/or share the contest video.
Like the contest on Facebook!